DINING AREAS
Breakfast & Dinner
Step out of the courtyard into a world of great atmosphere. Our natural cave is built into the lava offers a unique ambience for guests to relax. It operates as a breakfast area in the morning and as our bar/restaurant "The Wine Bar" in the evening. Enjoy an exceptional private wedding dinner, or have an inspiring place for small professional meetings, wedding parties and conferences.
In the evening local wine, cocktails and beverages, along with snacks, fresh salads and delicious light dishes are served in this delightfully cozy chamber and in the courtyard next to it.
During the summer, when the weather allows it, we also serve at the higher terrace of Heliotopos, with views of the caldera, the surrounding islands and the sunset. If you wish to sit in the front row, make sure to reserve your table in advance, as there are only 2 tables in the front and they get booked up quickly.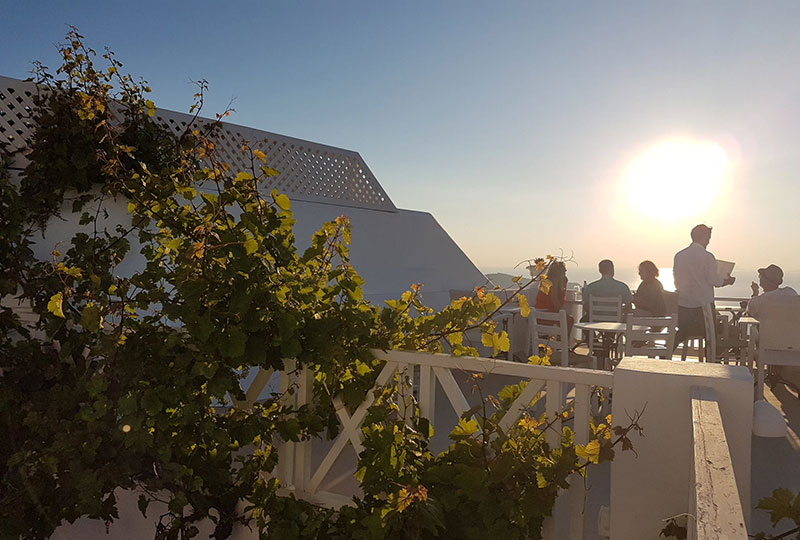 WINE AND DINE AT
The Wine Bar
During summer or when the weather allows is our terrace provides an exceptional spot with breathtaking view. While in the summer we are open from 17:00, during the winter we are open from 19:00 until 23:00. If you are planning ahead, please book a table.
In The Wine Bar you will wine served by the glass or bottle, champagne and other sparkling wines, beers, spirits, cocktails and non alcoholic beverages. Our food menu follows traditional recipes, all homemade with care and attention.
Not staying with us or a hotel nearby? It is very easy to reach us!